School Linked Health Center
Program Mission
The Macoupin County School-Linked Health Center's mission is to provide students with a collaborative approach to health care that addresses their needs as whole persons, physical as well as emotional, and that helps them to develop healthy lifetime habits which in turn will assist them in realizing their fullest potential.
Why have a School-Linked Health Center?
To decrease school absenteeism due to illness.
To help our students stay healthy and stay in school by offering health care that addresses all their needs and is easily accessible.
To provide health education that can help in developing healthy habits and reducing risky behaviors regardless of income or insurance coverage.
To provide health care by detection and treatment for physical, emotional, or mental health problems before they become serious or life-threatening regardless of income or insurance coverage.
Increase the quality of the learning experience by keeping children well and in school.
Keep children well by promoting prevention of the health risks through education in the clinic and school setting.
How do we meet these goals?
By offering age appropriate care. Because the Health Center serves only school age children & adolescents, we are able to concentrate our resources on the specific and unique concerns of this population.
By providing accessibility. Because of our affiliation to schools and our relationship to school nurses, referrals to the Center are done in an efficient manner. Ill students requiring an office visit and /or prescriptions can almost always be seen on the same day as referral. Follow up with the student is enhanced by the collaboration present between the School-Linked Health Center and the schools.
What services do we offer?
We offer a complete range of health care services, including:
School physicals
Sports physicals
Immunizations, TB skin tests
Management of chronic conditions such as asthma, diabetes, etc.
Referrals
Treatment for illnesses and injuries
Help with medications
On-site simple lab tests such as Hemoglobin, Blood Sugar, Lead, Lipid Profile
Health education and counseling on abstinence, nutrition, eating disorders, fitness, hygiene, risky lifestyles, drug use, alcohol use, tobacco use, substance abuse, violence prevention, family relations, self-esteem issues, HIV, AIDS and STDs.
Short term counseling
Medical, mental health and social service referrals
Dental Services including exams, cleaning, fluoride treatments, sealants, fillings and extractions
Who provides the services?
Certified nurse practitioners
Licensed physicians
Registered nurses
Licensed dentists
Counselors
Professional health educators in the participating schools
Who can participate?
The Macoupin County Community School-Linked Health Center will provide services for children ages 3 to 18 that are enrolled in participating school districts. To receive medical services the child must be enrolled in the School Linked Program and must bring along a medical card or proof of income for the sliding fee scale.
For more information contact:
Maple Street Clinic at 217-839-1526
Morgan Street Clinic at 217-854-3692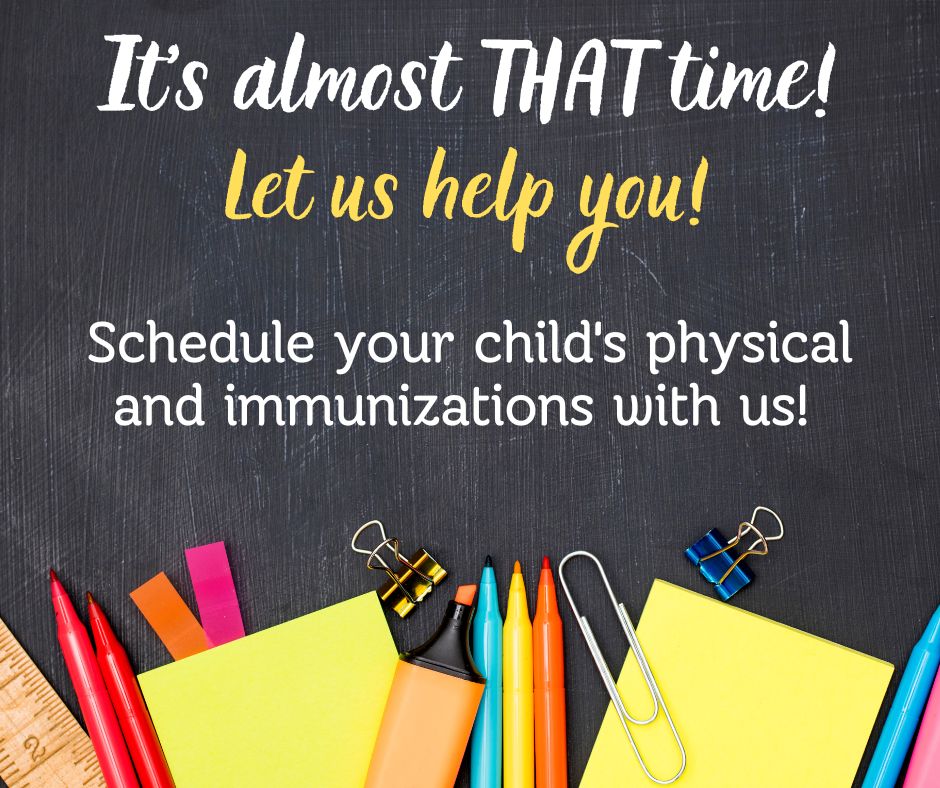 Back to school is just around the corner! We will be holding an outreach clinic for physicals and immunizations at each school district in August. If your child is entering Pre-K, K,  6th grade, 9th, or 12th grade, they may have medical requirements that must be met in the state of Illinois. If your child is in 6th-12th grade and plays sports, we offer sports physicals as well.  See below for the clinic dates and registration links.
Carlinville School District—August 1, 2023—Appointment Request Form (phreesia.net)
Southwestern School District—August 2, 2023—Appointment Request Form (phreesia.net)
Staunton School District—August 3, 2023—Appointment Request Form (phreesia.net)
Gillespie School District—August 8, 2023 & August 29, 2023 (immunizations only) – Appointment Request Form (phreesia.net)
Mt. Olive School District—August 9, 2023—Appointment Request Form (phreesia.net)
Northwestern School District—August 10, 2023—Appointment Request Form (phreesia.net)
Bunker Hill School District—August 15, 2023—Appointment Request Form (phreesia.net)
North Mac School District—August 30, 2023—Appointment Request Form (phreesia.net)
To register your child for a physical and/or immunizations, click on the link corresponding with your school district and request an appointment time. MCPHD staff will contact you to confirm your appointment time before the clinic date.
NOTE- Registration will close one week prior to the outreach clinic date.