Safe Families of Macoupin County provides residents who are experiencing domestic violence with free and confidential services in a variety of ways including but not limited to: counseling referrals, transportation, employment, education, basic needs and life skills support. We support survivors of Domestic Violence by accompanying survivors to court, assisting with Orders of Protection and creating safety plans.
Macoupin County Safe Families is located within the Macoupin County Public Health Department's Oakland Avenue Clinic located at 205 Oakland Ave, Carlinville, IL 62626. We are open 8:30am-4:30pm. You must call to schedule an appointment. If you need assistance, you can reach our 24-hotline number at (888) 259-6364. There will always be a domestic violence advocate available for assistance.
Domestic Violence is destructive and can be both physical and psychological. It can affect anyone of any age, gender, race or sexual orientation. It may include behaviors meant to scare, physically harm, or control a partner. While every relationship is different – domestic violence generally involves an unequal power dynamic in which one partner tries to assert control over the other in a variety of ways. Domestic violence is a crime and punishable by law.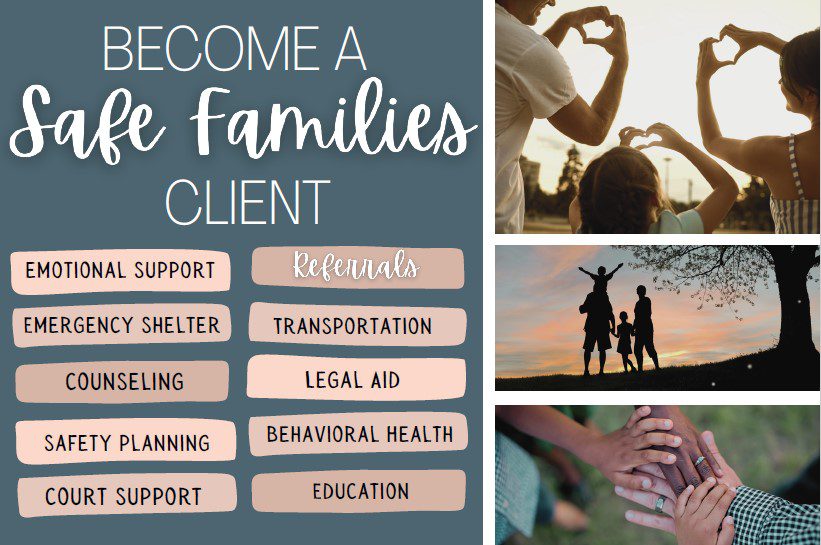 FAQ's
How do I become a client of MCPHD's Safe Families Program? 
The first step in becoming a Safe Families client is meeting with our staff face-to-face to discuss your situation and other methods of safety. Then, we would have you sign a release of information, confidentiality forms and any referrals that are needed. Then, we would review your rights as a client and the service plan we generate. This process involves more than completing paperwork for an order of protection.  If an emergency order of protection is needed, our staff will assist you with the paperwork during this time.
What relationship qualifies as domestic violence?
Illinois State Chapter 750 §60/103 states, "'Family or household members' include spouses, former spouses, parents, children, stepchildren and other persons related by blood or by present or prior marriage, persons who share or formerly shared a common dwelling, persons who have or allegedly have a child in common, persons who share or allegedly share a blood relationship through a child, persons who have or have had a dating or engagement relationship, persons with disabilities and their personal assistants, and caregivers as defined in Section 12-4.4a of the Criminal Code of 2012. For purposes of this paragraph, neither a casual acquaintanceship nor ordinary fraternization between 2 individuals in business or social contexts shall be deemed to constitute a dating relationship. In the case of a high-risk adult with disabilities, "family or household members" includes any person who has the responsibility for a high-risk adult as a result of a family relationship or who has assumed responsibility for all or a portion of the care of a high-risk adult with disabilities voluntarily, or by express or implied contract, or by court order".
How to determine what order you need?
Order of Protection- "Orders of Protection provide protection from being abused by a partner, family member, or household member" (Illinois Legal Aid Online).
Civil No Contact Order- A Civil No Contact Order protects victims of rape, sexual assault, or sexual abuse from the abuser, and can also be used to protect the victim's family" (Illinois Legal Aid Online).
Stalking No Contact Order- "A Stalking No Contact Order stops someone else from stalking someone. Stalking is any activity that makes someone fear for their safety or becomes distressed. This includes someone knowingly making threats over a period of time. It must happen more than once to be stalking" (Illinois Legal Aid Online).
How can I be prepared to file an order?
Obtain the respondent's (offender's) information including name, date of birth, and address. The Circuit Clerks office may not complete the filing without this information. Please call Safe Families with any questions regarding this policy.
If you wish to become a Safe Families client, please call our office at (888) 259-6364 to schedule an appointment.
You will appear in front of the judge the day you file your Emergency Order of Protection (EOP) unless you file after 12pm. If you file the EOP after 12pm, then you will appear in court the following day. We recommend scheduling a morning appointment to have plenty of time to complete the necessary EOP forms. The typical Courthouse schedule for EOPs to be heard in front of the Judge is Monday at 2:30pm and Tuesday-Thursday at 1:30pm. The times are subject to change due to trials, holidays, and staff availability. Please call the Macoupin County Courthouse for verified times at (217) 854-6101.
Establish transportation – If you need transportation assistance, please call the Macoupin County Public Transportation at (877) 600-0707 or visit their website Macoupin County Transit | Macoupin County Public Health Department (mcphd.net). Please call 24 hours in advance to secure your ride.
*Disclaimer- Safe Families advocates are not attorneys; they cannot give legal advice nor legal representation in court. The petitioner is responsible for all legal decisions and all documentation will be prepared by the petitioner. *
What happens during an Emergency Order of Protection?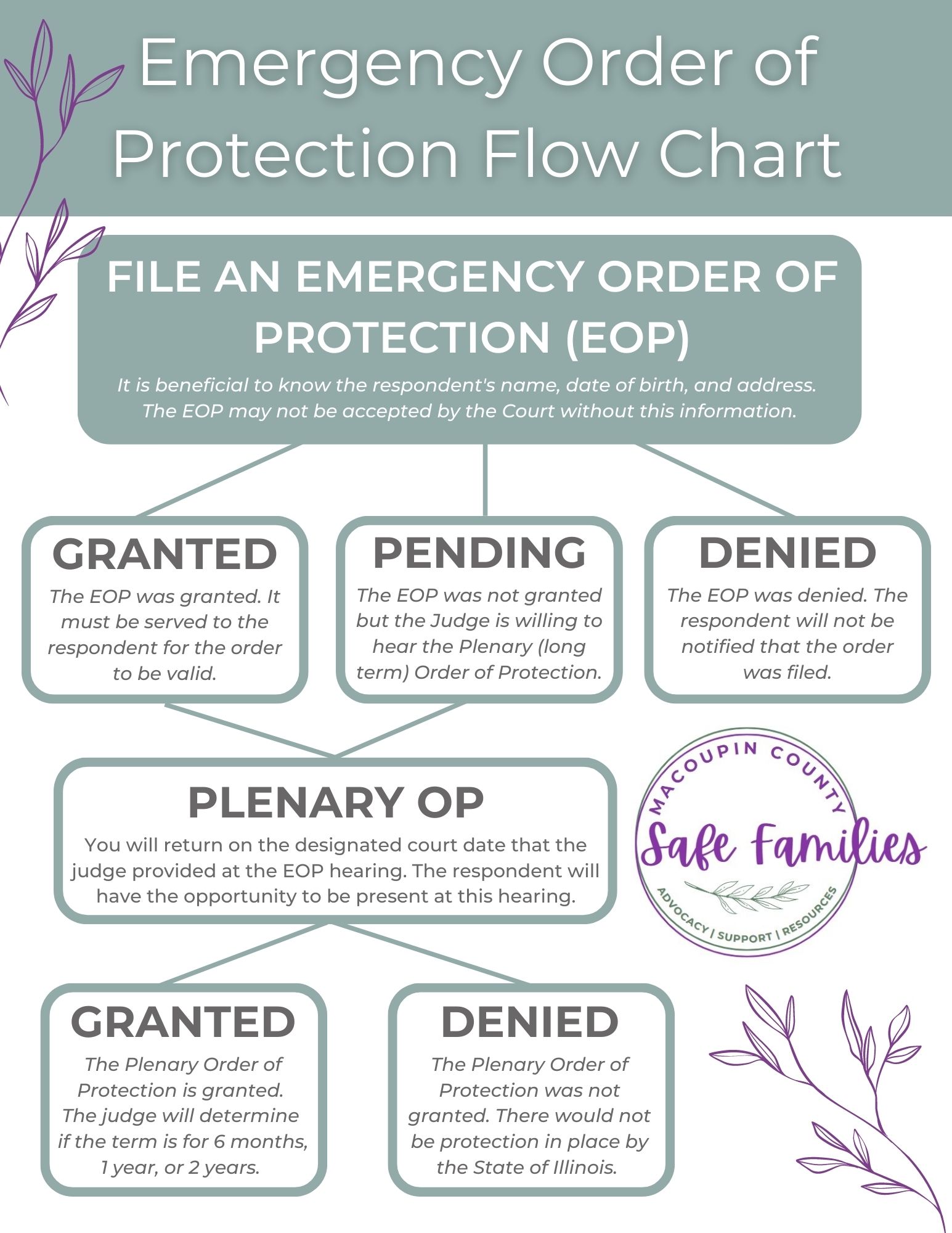 What if I am not a client?
Listed below are entities that can provide Order of Protection, Stalking No Contact Orders, or Civil No Contact forms.
Macoupin County Courthouse – You can receive the forms and fill them out at the Courthouse. The Circuit Clerk or the States Attorney may answer questions. If you have further questions call the IL Court Help listed below.
Safe Families – You can receive the forms but will not be able to complete them at Safe Families unless you are a client, due to confidentiality.
Carlinville Public Library – You can complete the forms online in a user-friendly format. The Carlinville Public Library will have a printer you can access to print your completed forms.
Online
For questions, please call or text IL Court Help (833) 411-1121.
Useful Links
Restraining orders | Illinois Legal Aid Online
What are the different types of protective and restraining orders? | Illinois Legal Aid Online
How do you get an emergency order of protection? | Illinois Legal Aid Online
Starting a case to get a Civil No Contact Order | Illinois Legal Aid Online
Emergency Information
If you have been the victim of violence and need immediate assistance, call 9-1-1 or your local police department.
If you need more information, support, or emergency shelter, call 1-888-259-6364
If you need immediate medical attention, contact your family physician or the emergency hospital nearest you.
Message us with any questions at [email protected].
Donations may be made to the Safe Families program by mail or in person at:
MCPHD
c/o Safe Families
205 Oakland Avenue
Carlinville, IL 62626
Please join us on October 7, 2023 for our first annual Domestic Violence Awareness Walk in Carlinville!
Scan here to register: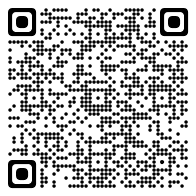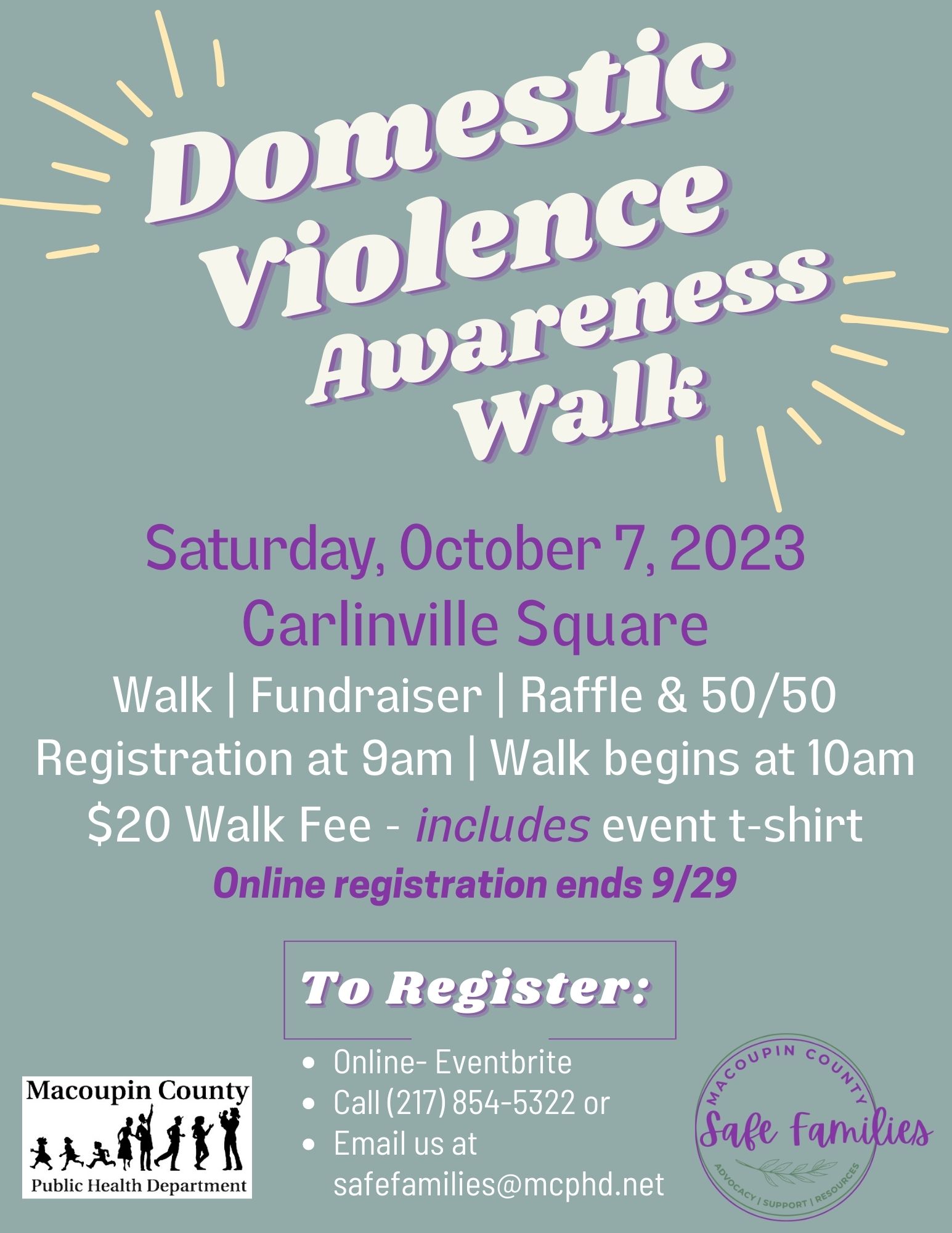 For immediate questions call (888) 259-6364.