Surveillance Data
Environmental Health Services conducts surveillance activities for West Nile virus (WNV) seasonally, from May through October, by operating mosquito collection traps located throughout Macoupin County. These traps are designed to capture the Culex species of mosquitoes, which is the primary transmitter of WNV in our area. After collection, the mosquitoes are tested for the presence of the virus to predict the risk of human exposure.
For more information on West Nile Virus Surveillance data in Illinois please visit IDPH's website here: https://www.dph.illinois.gov/topics-services/diseases-and-conditions/west-nile-virus/surveillance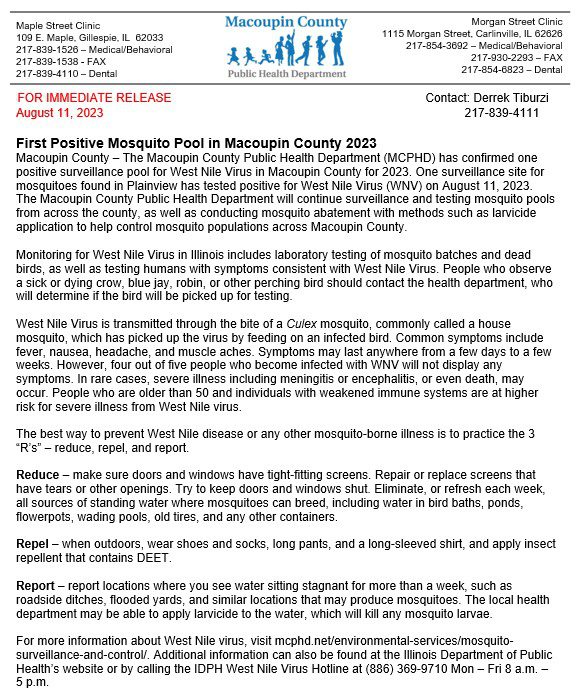 Bird Reporting
Mosquitoes are infected with WNV after biting infected birds, which are the host or reservoir of the virus in the environment. The presence of dead birds can also be an indicator that the virus is present in an area. Dead bird sightings can be reported by calling our Environmental Health Department.
Birds that are reported should be dead no more than 48 hours and have no other obvious causes of death. Birds can only be picked up Monday – Thursday due to laboratory requirements for testing and they must be refrigerated until a staff member can pick the bird up. Otherwise, the dead bird can be disposed of by double-bagging and placing in your household trash.
To report a dead or dying bird or for additional information on this program please contact Derrek Tiburzi at 217-839-4111.
Helpful Links:
EPA Website for Tire Collections