Maple Street Clinic
Macoupin County Public Health Department listened to the needs of the community and opened Maple Street Clinic located in Gillespie. The clinic's collaborative approach provides medical, dental services and behavioral health services to Macoupin County and surrounding areas. Maple Street Clinic is committed to helping our communities thrive as we continue to prioritize the health and well being of our residents. We strive to provide comprehensive and compassionate care for all patients regardless of age, race, or income.
Department of Health and Human Services, Health Resources and Services Administration Grant Award Recipient
If you have a medical emergency and cannot reach us, please go to the nearest emergency room or dial 911.
---
To obtain a copy of your healthcare records, complete this paperwork:
Authorization to Release or Obtain Confidential Healthcare Information
Fax the completed form to 217-839-4160 or email to: [email protected]
Medical records will be released to you by fax, in-person, or by mail through the United States Postal Service. Medical records cannot be released by email. 
To obtain your immunization record, register for a Vax Verify Portal account here.
If further assistance is needed, our Medical Records Department can be reached at 217-839-7799.
---
Medical Services
Maple Street Medical Clinic offers preventative and medical services for all individuals across the lifespan. We accept patients from newborn to senior citizens regardless of insurance coverage. All major health insurance is accepted along with Medicaid, Medicare and MCO's. Sliding fee scale is available for the uninsured and underinsured.
Services for adolescents include: sports and school physicals, immunizations, well child check-ups, minor illness or injury, nutritional counseling, STI screening and treatment and primary care.
Services for adults include: routine well woman check-ups, minor illness or injury, Illinois Breast and Cervical Cancer Program, nutritional counseling, chronic disease management, STI screening and treatment and primary care.
Please arrive 15 minutes earlier than your scheduled appointment time to allow paperwork updates.
For appointments: (217) 839-1526 or TOLL FREE: (888) 349-4482.
---
Dental Services
Maple Street Dental Clinic offers preventative and basic dental services for any patient over the age of one. Services include: exams, cleanings, fluoride treatments, x-rays, fillings, extractions, crowns, partials and dentures.
The Dental Clinic accepts all children with any insurance. Currently the Illinois Medicaid card serves children through the age of 20 for regular dental care. The Dental Clinic accepts all insurances and has a sliding fee scale for those who are uninsured and under insured.
If you have a dental emergency and cannot reach us, please go to your nearest emergency room.
Please arrive 15 minutes earlier than your scheduled appointment time to allow paperwork updates.
For appointments: (217) 839-4110 or TOLL FREE: (888) 349-4482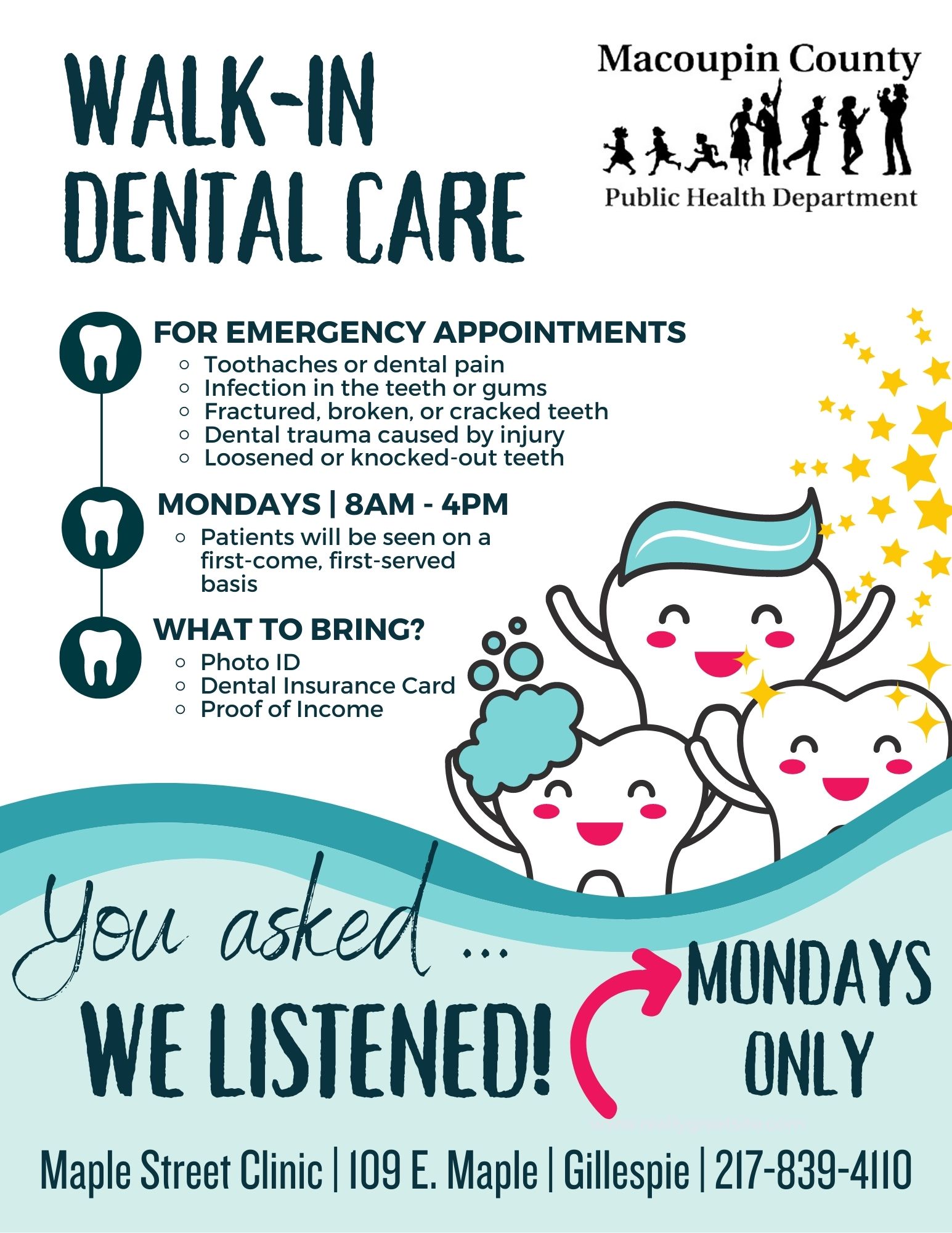 ---
School Sealant Program
The Maple Street Dental Clinic operates a school sealant program. The following school districts are offered the opportunity to participate: Bunker Hill, Carlinville, Gillespie, Mt. Olive, North Mac, Staunton, and Southwestern. In most schools, the staff nurse is in charge of distributing and collecting permission slips for student participation.
Services offered in the school sealant program include: dental screenings, cleanings, fluoride treatments, placement of sealants, and oral hygiene instructions. Our clinic's staff dentist completes the screenings and licensed hygienists provide further treatment. For more information on sealants, please contact our dental clinic at 217-839-4110.
---
Behavioral Health Services
Have you been diagnosed with or do you think you might be battling a mental illness? The good news is, mental illness is treatable and with the proper care, you can begin to feel better! The Maple Street Clinic behavioral health team provides high quality, evidence-based mental health care to assist individuals improve their quality of life. As the number of people diagnosed with mental health issues such as depression rises to new highs, the need for services to treat them is growing too. The CDC reports that approximately 56% of adults with a mental illness do not receive treatment. There's also evidence of a dire lack of treatment among teens, with the CDC reporting that the suicide rate for teens is skyrocketing.
Choosing a behavioral health provider is a personal and important decision. Clients who come to Maple Street Clinic find hope and reclaim their life as they face anxiety, depression, addiction or other mental health disorders. Our professional and dedicated staff helps clients face their issues with grace and dignity, promoting recovery and positive coping skills. Our staff of mental health professionals includes licensed psychiatric nurse practitioners, clinical social workers and counselors who have experience to assess and treat mental health concerns.
Mental Recovery is Possible
The behavioral health team at Maple Street Clinic provides evaluations, medication management, and counseling for a variety of emotional and behavioral difficulties. We treat patients ranging from age 5 to senior adults. We offer individual and family therapy, in addition to medication management. No matter where you live, help is just one phone call away. We treat all types of mental disorders including:
Depression
Anxiety
Post Traumatic Stress Disorder (PTSD)
Obsessive Compulsive Disorder (OCD)
Attention Deficit Hyperactivity Disorder (ADHD)
Bipolar Disorder
Schizophrenia
Dual diagnosis (Addiction and Mental Illness)
Serious Eating Disorders (anorexia, bulimia)
Please download, print, and complete the following prior to your appointment. You may either bring it with you or mail it to us at least one week prior to the appointment date. Please arrive 15 minutes earlier than your scheduled appointment time to allow paperwork updates.
For appointments: (217) 839-1526 or TOLL FREE: (888) 349-4482
---
Federally Qualified Health Center (FQHC) Mission Statement:
The Macoupin County Public Health Department believes that optimal health is an important goal for all individuals, and that all residents, groups, and communities have a right to affordable and accessible healthcare. The mission of the Maple Street Clinic is to promote wellness, prevent disease, and be proactive in assessing and addressing the healthcare needs of residents or Macoupin and surrounding adjacent counties.