The Macoupin County Public Health Department coordinates a Child Passenger Safety Program funded by the Illinois Department of Transportation.  The program is staffed by certified Car Seat Technicians who also serve as volunteers for the Macoupin County Safe Kids Coalition. The program coordinator is an employee of the health department and can be reached by calling 217-854-3223, ext. 2285.
Parents often ask us about Illinois Law.  For a description of Illinois Child Passenger Protection Act click here.  Although the Illinois Law is a great foundation for keeping our children safe while traveling, it is not always the best practice. Every person on every ride must use a car seat, booster seat or safety belt that is right for his or her weight and height.  Certified Car Seat Technicians can help you determine what your child's car seat needs are. Call 217-854-3223, ext. 2285 for more information.  You can also find additional information at Buckle Up Illinois at www.buckleupIllinois.org and Safe Kids at www.usa.safekids.org.
The Macoupin County Child Passenger Safety Program offers:
A Car Seat Installation Station for Macoupin County WIC participants is held once a month.  WIC participants are encouraged to make an appointment to have their existing car seats checked. They may also complete an application to receive a car seat at a reduced price. Applications can be obtained from the WIC nurse. The program coordinator reviews all applications, prioritizes need and schedules appointments for car seat installation and education.
A Booster Seat Installation Station for all Macoupin County residents is held once a month appointments are required and can be made by calling 217-854-3223, ext. 2285. Most people are surprised to learn that it can take up to 12 years for a child to be big enough for safety belts.  A booster seat with the vehicle lap and shoulder safety belt should be used until your child passes the Safety Belt Fit Test.
At the booster seat installation station, Certified Car Seat Technicians inspect car seats, show how to install and adjust booster seats properly and evaluate if your child meets requirements for the safety belt.  If the technician deems it appropriate, booster seats are available to participants for a donation.
Car Seat Check-up Events are held in Macoupin County for anyone wishing to have their car seats inspected by a certified car seat technician.  These events are held in May and September.  Seats are checked throughout the year by appointment only at the Macoupin County Public Health Department.  For information, contact the Macoupin County Public Health Department at 217-854-3223, ext. 2285.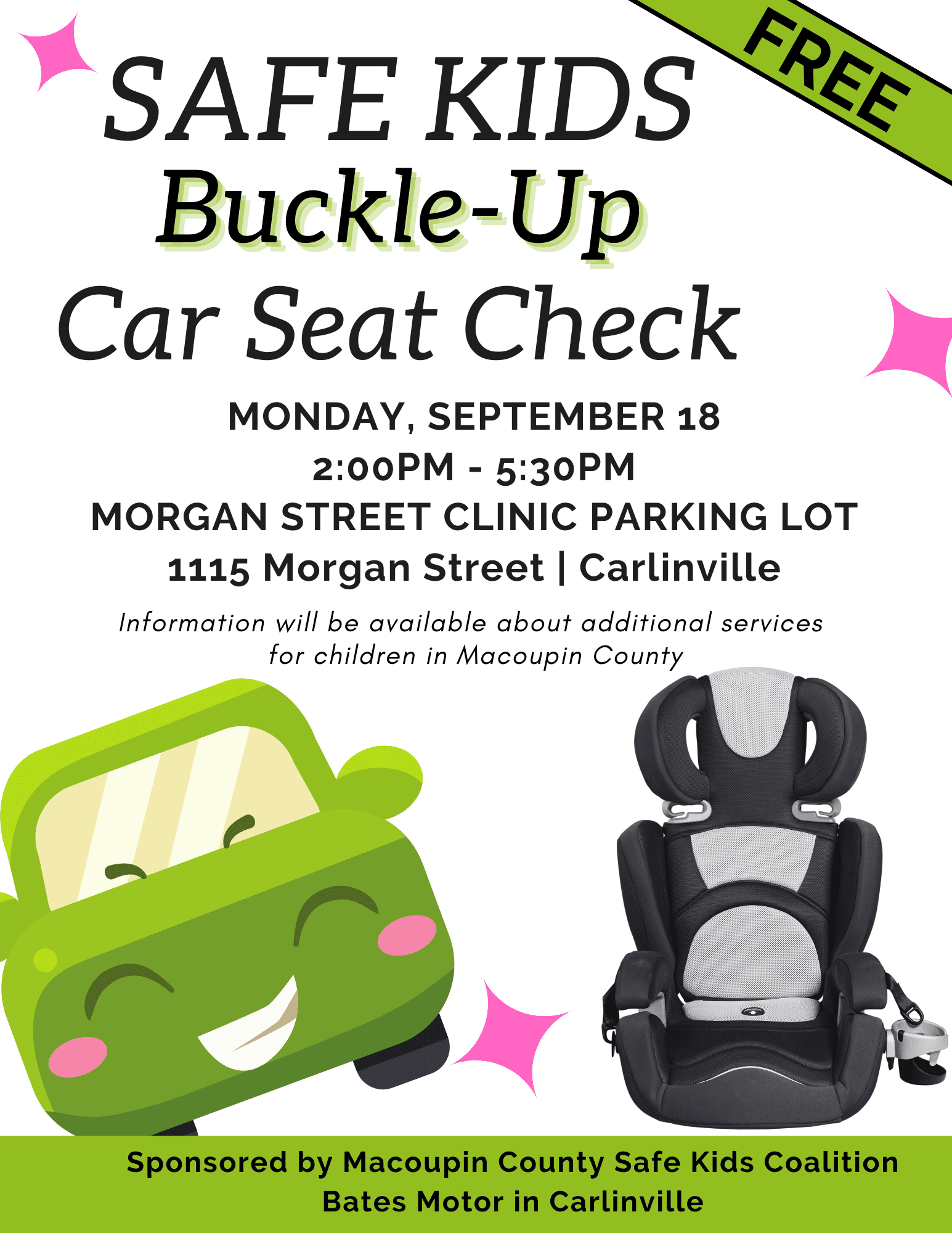 School and Community Presentations
Certified Car Seat Technicians and SafeKids Coalition volunteers provide educational presentations that can be designed to meet the needs of specific audiences.  An example of this type of presentation includes the Little Convincer Program, which is designed for children age pre-K through kindergarten.